Description
Critical edition of an important lute manuscript from Prague c. 1600 – CZ-Pnm XIII B 237
Completed and revised publication of Jiří Tichota's planned 1989 edition.
Editors: Jiří Tichota, Jan Čižmář
Contents of the publication:
I. Textual part: studies, critical comments – format A4, 66 pages, coil binding
II. Transcription – format A4, 116 pages, coil binding
III. French tablature – format A4, 108 pages, coil binding
IV. Facsimile – format 168 x 210 mm, 94 pages, coil binding
V. CD (Supraphon) – includes compositions from Codex Jacobides in solo and chamber versions. Duration – 62 Min.
Representative case with magnetic lock – can be easily placed in bookshelf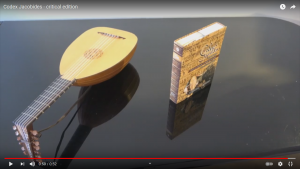 Published in 2020 by Czech Lute Society in co-operation with The National Museum.
ISBN: 978-80-907981-0-6
***
"Absolutely beautiful edition. Congratulations!"
D.Shoskes
"Your very beautiful edition of the Codex Jacobides arrived and I am extremely pleased!  It is impressive and thoughtfully created.  I love the hardcover box/album which holds all the books together and also that you used a spiral binding which makes it practical to play from on the music stand. Very impressive detailed study of the manuscript, printing of the facsimile, and the French tablature edition. I am very happy!"
K. Bé
"First to tell you that the package arrived yesterday. What an amazing package it is! Everything one could ever want pertaining to this manuscript. And one look at the facsimile shows just how much of a labor of love this project became."
C. Liddell